I've just finished scraping all of my previous dropshipping guides and I've decided to create for you one mega, tell-all guide giving you all you need to know to do dropshipping in 2019.
As I am sure many of you reading this are wondering;
Can you still make money with dropshipping in 2019?
The short and quick answer to that is; yes and the reason for that is what I will be talking about in this guide I have here for you here.
Here's what you'll be learning:
How to get started with dropshipping.
What you need to do to make it a successful venture
How to start your Shopify store
How to find hot-selling products for 2019
Best (unknown) advanced tips for success with dropshipping.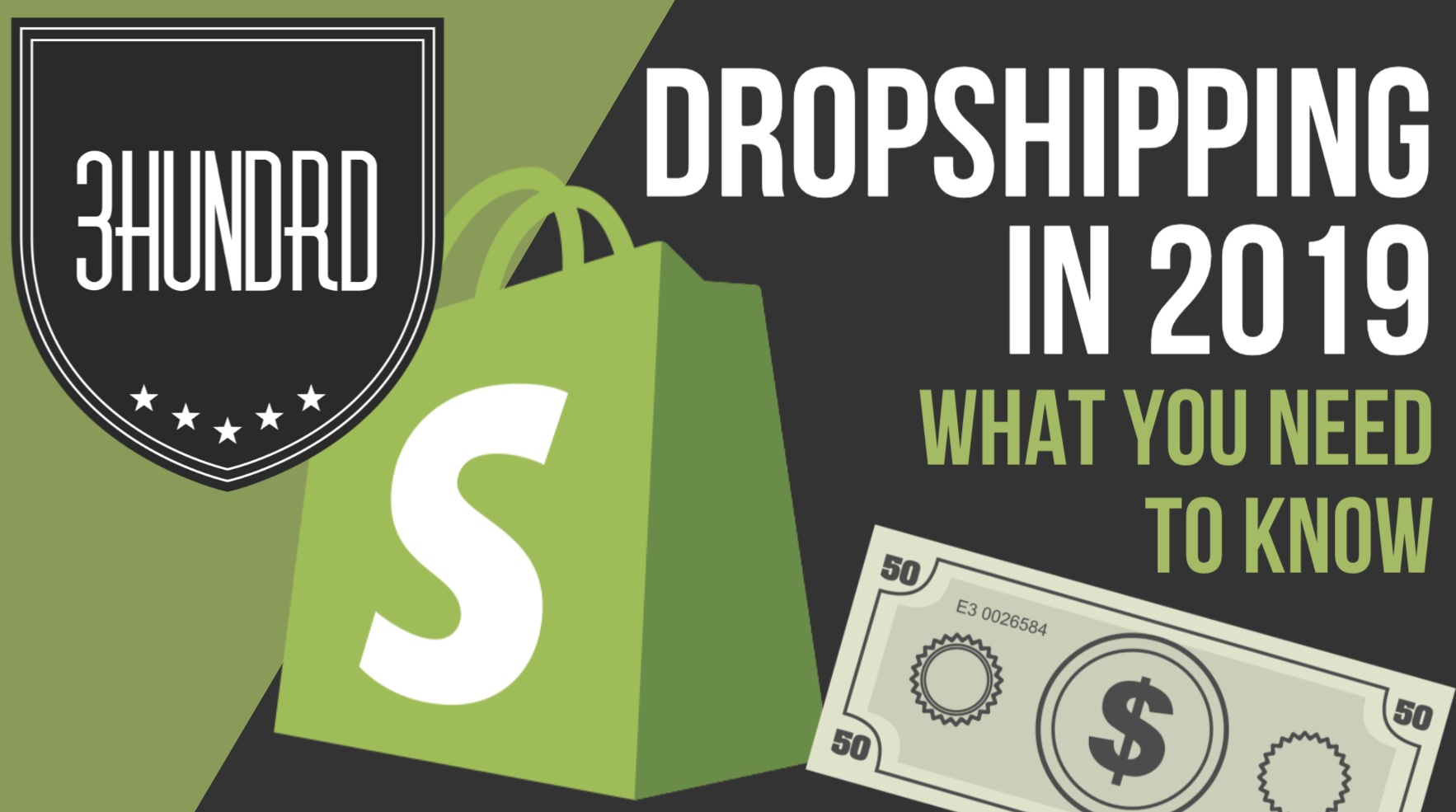 If you've been thinking about starting a drop shipping business in 2019, then this is the guide for you.
Right below I'll also share with you some training courses (both paid and free) that you can use to make 2019 the year you finally crack the drop shipping code (and make some money).
Getting Started: Things You Need To Know About Dropshipping
Before we get into the nitty-gritty details, let me just share with you some hard-truths about dropshipping that you may or may not already know:
01: Dropshipping is not easy:
Even though the gurus make it look as such, the dropshipping business is not easy.
No online business is easy for that matter; they require work, patience, testing, failing, adjusting and a strong will to make it happen.
If you think you're just going to whip up a store and suddenly get rich, you've got another thing coming.
02: You need to learn dropshipping:
Common sense right?
Well surprisingly – not in the online world.
For some reason, people looking to start an online business (whether that may be dropshipping or else) they think they can just skip the learning part and try to go straight to making money.
Continuing on from point #1; you need to make an effort to learn how to do dropshipping.
03: Don't believe the hype:
If you've been looking into dropshipping for a while, you may have seen 15-year-olds on YouTube flashing screenshots of $10,000 days.
While that may be true for some; this is a rare example and not the norm with a dropshipping business (although still possible).
Spending $15,000 in ads to make $10,000 is not how you make money dropshipping.
Also, keep in mind that these screenshots can be easily faked – just take a look at this genius below: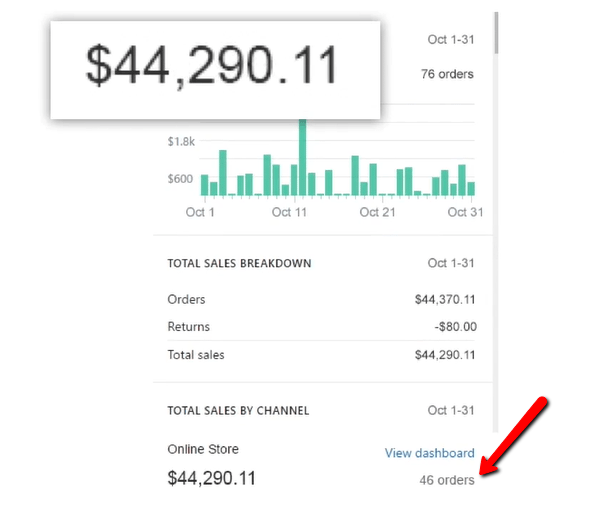 04: Dropshipping can still be profitable in 2019 (no it's not saturated).
Yes, the best time to get into dropshipping was 3 years ago but it is still possible to start today and make a significant profit doing it.
As you will see from this guide, the possibilities with dropshipping are still there – in fact; this industry (e-commerce) is just getting started.
A quick fact to further drive this point further is that Amazon is still in the lower single-digit percentage of all retail spending in the US!
How To Start Dropshipping (in 2019)
Right; let's get into the good stuff now.
How can you – currently sitting here reading this – go on to build a thriving dropshipping business after finishing this guide.
You need 4 things:
You need a niche
You need a store
You need a budget
You need to know what you are doing (unless you want to fail)
These are the 4 main things you need to get started.
Without them; there's no way you can make this a successful venture.
Now since all of these are the must-haves, let's dive deeper and see how to achieve them all.
Picking your dropshipping niche:
In any online business you attempt, you are going to want to have a niche.
But what is a niche?
Simply put, a niche is a group of people looking for something specific.
Now there is a theory that you don't need a niche with dropshipping.
In fact; it's often recommended you go "general" with your store (meaning you list items from a variety of different niches and categories).
A perfect example of this – even though it's not a dropshipping store – would be Amazon.com.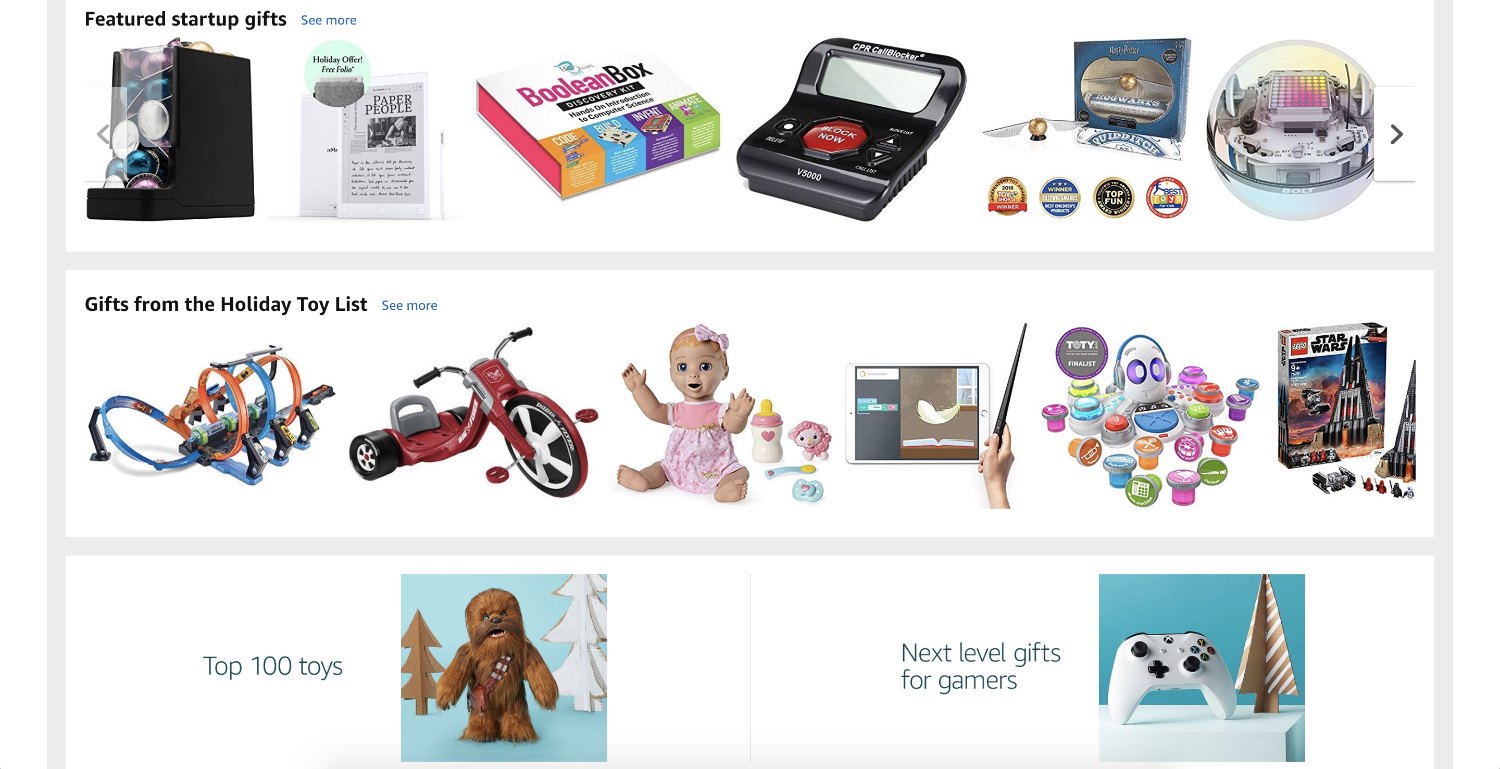 Amazon.com is not a niche-specific store; it carries everything from bottled water to Hublot watches, this is what we call a "general store".
The opposite of that would be a niche specific store.
A niche-store caters only to one audience and a perfect example of this would be DollarShaveClub: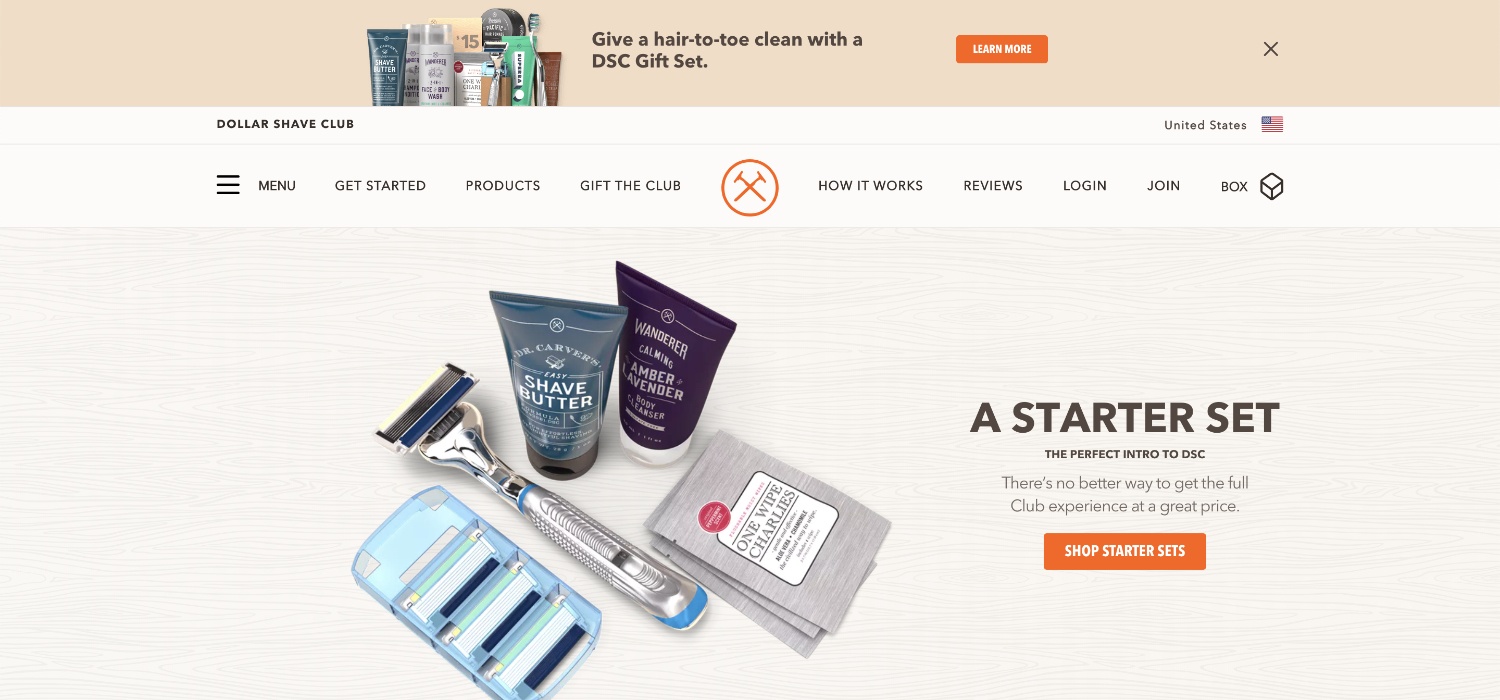 (This is not a dropshipping store either – just using it as an example).
DSC is a niche-specific store targetting mainly men with beards. That is all.
General vs Niche Store (Pros & Cons)
The main reason it's often recommended to go "general" with your first store is that when you're starting out, you do not know what is going to sell.
A general store allows you to test multiple products on the same store.
On the contrary, if you have a niche-specific store and that niche is simply not working for you, you are either going to have to give up on dropshipping altogether or have to start a new store each and every time you want to test a new product.
Of course; in that case; a general store would come in handy.
This is a tricky situation as there are pros and cons whichever way you go.
For longevity, if you do have a niche in mind already, then I suggest you go with a niche specific-store from the get-go.
You might fail and have to start all over again but in the long-run, niche sites tend to perform better.
If you don't have a niche in mind, start a general store and waste no more time thinking about this.
If you're going to go "generic", once you find a winning product – i.e. a product that sells well and is making you money – quickly create a new store niche-focused around that product and re-start your campaigns that way.
This allows you to test a variety of products and niches and gives you an exit plan on what to do once you have found a proven profitable product.
However, having a branded niche store that caters to a specific audience drastically improves your chances of becoming (and staying) profitable.
Do you really want to be out there competing with Amazon and other big-budget retailers when you can secure a brand following with a niche-focused store?
As I will reveal below, your dropshipping business has to be better than the rest to give you a fighting chance at making money and building a specific brand-store for a specific audience gives you an upper hand above all other dropshippers doing the tired generic-play.
If you're getting confused with all of this, I understand.
For a beginner picking where and what to sell (and to who) may be a daunting task already but don't worry, all will make sense soon.
With dropshipping – the primary way you will be driving traffic is through paid traffic.
Facebook Ads is what is recommended (you can also advertise on Instagram) through this platform.
This is where most of your money will be spent, and you are going to need at least $300 to really make an impact.
You need this $300 to give you enough of a budget to work with.
In the dropshipping + Facebook Ads game, it all comes down to testing out different ads and different audiences.
When you first launch your campaign, you are not going to know what works and what doesn't – this is why you need a comfy budget that you can work it.
Now thankfully, Facebook is smart enough that given enough time and data (i.e. enough ad budget spent) they can themselves figure out what is working and what is not so in time, you will be making more sales with even less ad spend.
This is why you need to let Facebook do its thing for a few days.
Even though it looks like it's pissing away money, what it really is doing is finding you the best audience for your product.
Getting scared and freaking out over the amount of money you are spending and cutting them out early is a bad way to go and even though it's understandably hard to do; you need to give the platform enough time to optimise for best conversions.
How much money should you spend on ads?
Ideally, you should start with a $5 per day budget per ad (and run it for 4-7 days before you pull it).
Some might say it's best to go with $10 a day and it's true; you're better off with $10 – but $5 is doable as well.
Keeping with the $5 per day budget, you are going to need to spend approximately $35 a week to figure out if the ad is worthwhile running or not.
Of course, you can run three ads per day, and that would bring you to a total of $105 per week. This will speed up time allowing you to test more quickly and hopefully find a winner sooner but of course; you will be spending more of your budget.
However; with $300 you should have enough of a cushion to wait it out and actually try multiple products (you never know which one may hit).
How To Find Hot-Selling Products For Dropshipping in 2019
One last thing I want to talk about is;
How to find hot-selling dropshipping products to sell?
Well, there are many ways of doing so but ultimately – I do believe that just about "any" product can sell.
If you have the right product, at the right time, at the right price and presented to the right audience, there's no stopping you.
Of course there are some bad products which you want to avoid, but truth be told there really is no telling which is a winner and which is a dud until you test them out.
Below I have another video guide that will show you how to find winning products but personally; I would stay away from these "flash in the pan" type products.
Sure they might sell for a while- if you are lucky to get in on the trend early – but these are very hard to time (especially when you're just getting started).
Alternatively, you want to find a passionate niche that holds an interest in a specific range of products.
If you can do that, you are guaranteed to have a long-lasting successful business with dropshipping in 2019.
3 Bonus Tips To Make Droshippign in 2019 As Successful As Possible
Last but not least, I want to give you some dropshipping tips that you might not have heard of before – but I believe they are crucial to doing dropshipping well in the coming years.
I'm not going to lie – even though the opportunities are still there; dropshipping is definitely getting harder and harder, which means you are going to need that little bit of oomph to put you above the rest.
Here are some great tips I have picked up from other successful dropshippers who are way smarter than me.
Learn Copywriting:
Copywriting is the art of selling through the written word.
No longer can you just plaster up and ad and a product and make money.
That used to work ion the past, but as I said; today you need that special something.
Learning copywriting and understanding what words to use to make a customer want to buy will be highly HIGHLY beneficial to you.
If you're just getting into this space, I suggest you check out the infamous Cashvertising book too.
That would be enough to give you an understanding of what you need to know (and write) to convert more of your store-visitors.
Remember, even managing to increase your conversion rate by 0.5% can be a significant figure in the long-run.
Go Above and Beyond
Another tip I will share with you is to bring your A-game with your dropshipping store.
Do not half-ass it.
Add a contact page
Respond to buyer queries
Be honest and ethical
Get a logo that shows you are a trustworthy place to shop
Have a privacy policy
Have an FAQs page
etc…
People love buying from brands and while you do not have to be "Amazon-type-big", you do need to make an effort.
This goes for any online business you want to start by the way, not just dropshipping.
Look for "Shipped from US" Products
Remember I told you that you can now dropship products directly from the United States?
This is a god-sent to all dropshippers as this now cuts the shipping times drastically thus allowing you to make more sales and have happier customers.
Many Chinese suppliers are now storing goods in the US so when you buy from them you still do so from AliExpress, but instead of the products being shipped from China taking around 20 days to arrive, you can now ship in 4-7 days.
NB: You won't find many suppliers that do this yet, but I suspect this will continue to grow with time.
To find products that ship from the US, use the filter when looking for products to on AliExpress: